What is Melamine Edging?
Thursday, 6 February 2014 | edgeband.co.uk
Melamine Edging
Melamine is a specialist resin-saturated paper which is lacquered to give it strength and resilience to knocks and scratches. Melamine Edging is often coated on the back with a special hot melt adhesive which makes it easy to apply with a normal household iron or an edgebander machine, the glue is melted by the iron or edgebander and forms a bond between the edging and the board. It is also available un-glued for use with gluepot edgebanders.
Many different boards can be directly edged with melamine including MDF, Chipboard and Plywood.
The edging comes in a wide range of colours and finishes including matt, gloss and textured and a variety of wood effect finishes such as Oak, Walnut and Beech, which gives a 'uniform' grain effect. Various widths are also available.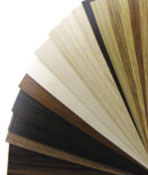 Melamine Edging Uses
Melamine edging is a low cost option but very durable and is used extensively in the manufacture of furniture for bedrooms, kitchens and living areas, including worktops, cabinets, cupboards, wardrobes and shelving. As it is so easy to work with it is often used by DIY enthusiasts to repair furniture such as kitchen cupboards or to renovate older furniture items.
Summary
Melamine edging is a great way to conceal the raw edges of a variety of boards such as MDF and is also ideal for home repair jobs. It comes in a multitude of colours and finishes and is very easy to work with. Melamine Edging rolls from 5mtrs to 50mtrs in length are available to buy from our website, these include coloured melamine edging and a range of wood effect edging in a variety of widths. Need help with applying your edging tape, then see our step by step guide on How to Apply Edging Tape.